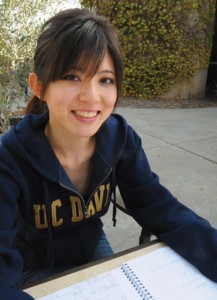 The Global Study Program is the perfect way for students to live the UC Davis experience and earn academic credit to apply to degree requirements at universities around the world. The program's many benefits include:
University of California quality education: The program combines academic excellence with unparalleled academic support, services and opportunities for international students.
Academic credit: Global Study students earn University of California academic credit for courses they successfully complete.
Breadth of UC Davis courses: Global Study students choose from a broad range of courses in nearly all of the colleges and departments at UC Davis.
Certificate: Students who successfully complete their coursework receive a certificate of their participation in the program, as well as a UC Davis transcript.
Flexibility: The program is designed to meet individual students' academic needs through enrollment in a wide array of courses and extensive student opportunities and services.
Academic and personal support services: Global Study students receive ongoing academic advising and oversight throughout their course of study to achieve their educational goals, as well as English language training (as needed). UC Davis staff members assist students with visa questions and housing accommodations.
Comprehensive student services: Global Study students have access to all of the facilities and privileges as other UC Davis students, such as libraries, sports and recreational facilities, the Student Health and Wellness Center, local transportation and much more.
Safe, peaceful environment: Global Study students enjoy the safety and tranquility of living in the small university town of Davis.
Fun activities and excursions in Northern California: Recreational and sports activities and field trip excursions to San Francisco, Napa Valley and the Sierra mountains contribute an important dimension to the study abroad experience.
The UC Davis Global Study Program is administered by UC Davis' Division of Continuing and Professional Education. The Division of Continuing and Professional Education provides academic oversight, facilitates the application and registration processes, and distributes transcripts.